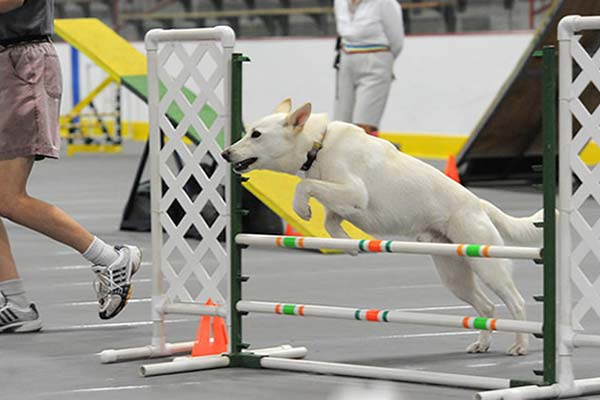 Cirrus Sky Dancer CD, RAE, TKI, MXP2, MXPB, MJP3, MJPB, CGC, EAS, TG-N, WV-O, O-NJC, S-TN-N, S-HP-N, NW1 (10/1/04 – 8/20/19)
Cirrus was adopted from White Paws German Shepherd Rescue in 2004 at the age of two. What a journey he has had! Between shelters, homes and foster homes Cirrus had been in 8 places (that we could track) before he came to us. He had been on 3 types of medication for anxiety. I saw him at an event I spoke at and just felt an immediate connection.
Cirrus had a LOT of energy and very little training and I believe that was a big part of why he was in so many homes. I started exercising him and training him and he began to come out of his shell more and more. He is a very bright dog! We began agility training and it really helped with his confidence. It has brought me great joy to see Cirrus grow into a confident, well-mannered dog who continues to meet every day with a wag and a smile. He is a true success story.
Cirrus's titles include:
AKC Obedience – CD
AKC Rally – RN, RA, RE, RAE
AKC Agility – NAP, NJP, OAP, OJP, AXP, AJP, MXP, MJP, MXP2, MJP3, MJPB, MXPB
AKC Trick Dog – TKN, TKI
AKC Canine Good Citizen (CGC)
AKC Achiever Dog
NADAC Agility – NAC, OAC, EAS, NJC, TN-N, WV-N, WV-O, HP-N, TG-N, O-TN-N, O-HP-N, S-TN-N, S-HP-N, O-NJC, O-WV-N
K9 Nosework – NW1