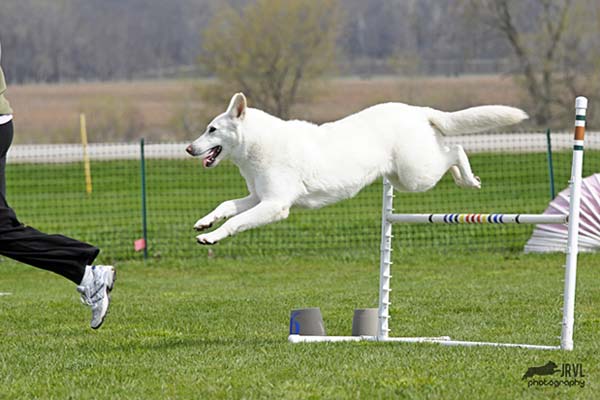 Maya's Summer Sunrise RN, TKI, MX, MXP, MXJ, MJP, OF, NFP, EAC, NCC, OJC, TN-E, TGO, WV-O, O-HPO
Maya was adopted from White Paws German Shepherd Rescue in the summer of 2011 at the estimated age of two. Maya came into the Miami FL Humane Society as a stray with 4 puppies. She was quite ill and weighed only 35 pounds. Maya was in a foster home for 3 months recovering from multiple medical conditions. I saw her online, felt a connection and went to visit her. Maya, Beau and Cirrus got along immediately and we adopted her the next week.
Maya had very little training so we started with basic manners. She learns quickly and loves to work. Maya has a lovely temperament and is an amazing dog. She has been a great addition to our family.
Maya enjoys a lot of different activities. She is retired from competition but still enjoys walking, hiking, playing frisbee and daily training.
Maya's titles include:
AKC Canine Good Citizen (CGC)
AKC Agility -NA, NAJ, NF, OF, OA, OAJ, AXJ, AX, MX, MXP, MXJ, MJP, NFP
AKC Trick Dog – TKN, TKI
AKC Rally – RN
AKC Achiever Dog
NADAC Agility – TN-N, O-TN-N, HP-N, NAC, WV-N, S-TN-N, NCC, NJC, TG-N, O-HP-N, TN-O, O-NJC, OJC, O-TN-O, WV-O, O-NAC, HP-O, TG-O, OAC, O-HP-O, O-WV-O, EAC, TN-E, Novice Versatility Award